ONE MOBILE APP – Freedays + D&D
ONE MOBILE APP – Freedays + D&D
<26 April 2022, Singapore> Ocean Network Express (ONE) will launch a valuable feature in our ONE Mobile App. Meet the Freedays + D&D, which is now accessible directly via our Mobile App.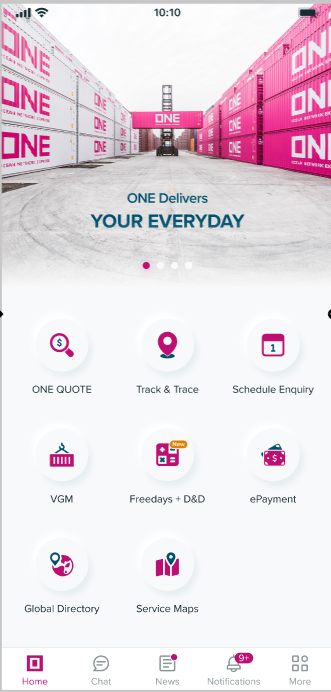 In line with our commitment to provide timely and accurate information to our customers, this feature directly accessible via the Mobile App service offers convenience for Customers to find out the total Free days and any incurred estimated or actual Import D&D cost. 
The implementation of this feature will be done in Phases where the following list of countries will be under Phase 1 release. 
Chile 
India 
Malaysia 
Taiwan 
Thailand 
Singapore 
Our commitment is to deliver valuable features in support of your shipment needs. Please get in touch with your sales representative for any additional information. 
We appreciate your business and thank you for choosing ONE. 
Sincerely, 
Ocean Network Express Pte. Ltd.